October 15, 2018
Last night Sears filed for Chapter XI bankruptcy. Started in 1886 by Richard Sears as R.W. Sears Watch Company, it transformed retailing. Sears developed an innovative distribution delivery system and mail order catalog that offered virtually any product, to anyone, anywhere in the United States. They accomplished this feat by leveraging the US Postal Service's Rural Free Delivery program that connected the most remote parts of the US. Sears recognized the opportunity to re-imagine retailing as a national versus a local business. In many ways, they started out like the Amazon of its day and then followed with retail stores across the country to become the Walmart as well.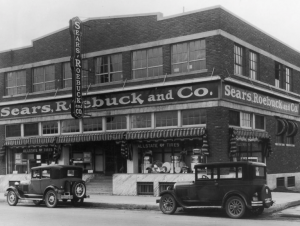 According to the NY Times article by Tiffany Hsu, " For years, it was the largest retailer in the United States, operating out of the tallest building in the world. At various points, it sold products like fishing tackle, tombstones, barber chairs, wigs …" Sears' innovations went beyond basic retailing to financial services. They founded Allstate Insurance, bought Dean Witter Reynolds stock brokerage firm and Coldwell Banker and started the Discover Card.
So how did such an incredibly agile and futuristic thinking company lose its way? In very simple terms they stopped being agile. Walmart overtook Sears as the largest retailer by offering lower prices and great service. Amazon came along and created the 21st Century mail order catalog via the internet, while Sears' core business model did not changed in any meaningful way.
Back in 2012, I developed a video series and blog called the 15 Keys to Creating A Quality Long Term Organization. The 12th Key was Do you have a healthy sense of paranoia? The idea of the video was to caution leaders that were experiencing success to assume rough waters ahead as competitors wanted their customers. My core message has not changed. Today I advocate for leaders to have an opportunity seeking, agile mindset as competitors wants their customers.
The winners over the next 10 to 20 years will be those willing to stop and assess their current resources and develop a more holistic approach to understanding the challenges and developing solutions. Becoming agile means, you begin to understand that people are at the center of the solutions. Your workforce has to become more agile and today you need to use data-driven methods to recruit, hire and develop the right people to support the future you want.
So, what does the decline of Sears and the need to be agile truly mean to you? It comes down to you considering a new approach to leadership. The dynamic environment of Industry 4.01 is moving too fast for a small group of leaders to accumulate information, deliberate and delegate responsibilities and tasks. You need to trust a motivated, informed workforce to react to the challenges and opportunities in the marketplace in a manner consistent with the purpose, mission and vision of the organization.
The facts are clear. It does not matter if you are motivated by paranoia or opportunity, the time to act is now!
*************************************************************************************************
Darsweil L Rogers is Co-Managing Partner of CFP Innovation