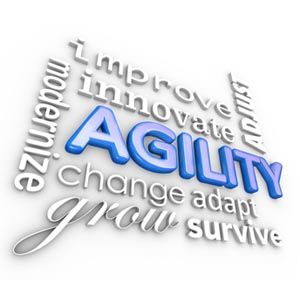 Course Objectives
The goal of the Agile Cultural Change workshop is to provide participants with a solid understanding of the opportunities any organization can gain from improved agility as well as an appreciation of the risks and challenges of maintaining the status quo or a "go slow" approach to change.   There are technological changes anticipated in the coming years that will disrupt entire industries and remake the competitive landscape.  This program provides a holistic view of the opportunities as well as providing practical insights and applications for every participant who takes the program.  This is a 2-day workshop but can be customized for your needs.
Value Proposition
Learn about the technological disruption impacting the world from the 4th Industrial Revolution.  Estimates are there will be more change in the next 20 years than in the last 300 years.  We discuss how the disruption may impact your organization?
The transitioning of the workforce to Millennials and Generation Z is creating new challenges as they have very different work/life and career aspirations compared to prior generations.Developing and retaining the right talent for your organization are keys to success.  We explore the challenges of generational succession and consider strategies for greater success.
Becoming an agile organization takes more than a decision by leadership. It takes a cultural shift in mindset, messaging and actions. We explore this new brand of leadership and strategies for implementation.
Being agile requires considering new and innovative organizational structures and processes. The traditional hierarchical structure with silos and limited communication across the organization is ineffective.  We explore new approaches to descaling the hierarchy to accelerate growth and success.
There is no way to achieve organizational agility without human resources re-envisioning many of the traditional elements in the HR toolkit. We examine strategies to modify performance management, compensation, career planning and more.
There are innovative ways to improve employee engagement, increase teaming and help your employees proactively identify and manage conflict. We share proven data- driven approaches to these universal challenges within organizations.
Benefits from Taking this Workshop
Developing agility requires a new way of thinking.  We introduce participants to strategies to develop a growth / opportunity seeking mindset
Capitalizing on a rapidly changing environment requires a workforce with new skills and greater authority to make decisions.  We explore strategies to develop the RIGHT workforce to meet the organization's needs in the future.  This includes the use of data-driven tools to recruit, on-board and develop a high performing team.
In an agile organization the role of leadership needs to change.  We explore the elements of leadership as a service (LaaS).  Leadership serves the organization in delivering value to customers.
What is your organization's purpose?  Why should your employees care about the success of the organization?  We review several trends that will enhance employee recruitment and retention.
The opportunities to achieve a cultural change will be stopped dead in its tracks if the Human Resources organization has not re-envisioned its role and many of its tools related to career development, learning and compensation.  We look at how the perspective of HR needs to change
This is an interactive workshop with discussions, hands-on exercises and opportunities to analyze your organization's current state as well as the steps needed to achieve greater agility.  
A highly motivated organization with great people and products can struggle because of operational constraints.  We uncover how managing and removing constraints can be the single greatest determinant to operational success.
For additional information about this workshop or other services email us at info@cfpinnovation.com